BONDAGE
Rope, hoods, wrist and ankle restraints, tape, cuffs, straps, gags, blindfold..and immobility of course.


ANAL PLAY
Mostly on my purpose-built Furniture.

You may like to call it pegging, prostate massage, strap-on, raping, butt plugs, dildos, enemas and fisting…done safely you are restrained and at my mercy.


DOMINATION
I dominate you with my sheer presence and with my mind. You will never know what to expect and that is all I have to say on the matter.


C.B.T. (Cock and Ball Torture)
Violet wand and T.E.N.'s Machine play, nails and wheels, wax and pegs, whipping, weights, needle play ……oh and I could go on.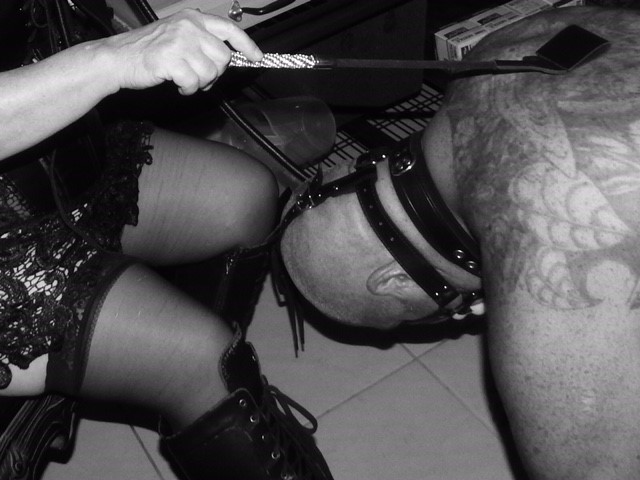 CORPORAL PUNISHMENT
Canning, strap, paddle, whips, canes from England and the U.S.  The ruler and other school punishment items.


URETHRAL PLAY
Catheters and Sounding rods of countless types including electric.


SISSY SLUT TRAINING
Full x-dressing or partial in lingerie for my sissys

Training in cock sucking, anal opening and fucking with strap ons and/or dildos.

You need to be a well-trained slut and I know just how to dominate you and humiliate you to mould you into my imperfect sissy slut.


CUCKOLDING
If I wish to keep the keys and send you away, you must supply your own device…so be prepared and have a well-ventilated device as I may just send you away.


MEDICAL PLAY"Patient"
role plays or just Domination with taking control of your body fluids. Catheters, enemas, needle play and much more.
WATER SPORTS.
Golden Showers and perhaps I will command you to drink it.

Brown Showers (phone call 24hrs prior and 100% payment required)


ROLE-PLAY SENARIOS
All types including Family Role Plays.

Ask what you want. I will tell you if I will enjoy it.

I love to humiliate and have you beg at my feet.

Remove your senses and have you completely at my mercy.

Your ultimate punishment being ignored by me or banished or left in a room bound, gagged and hooded…for as long as I choose…

I love Adult babies and Pegging and to reward you if I choose with, …well you will see.

You have just been privy to a small insight into some of the things I enjoy doing.

My world is relatively infinite. It is consensual, adult and safe.

The places I take you to are only limited by My Lifestyle, My Essence and My Imagination….as I said…My world is Infinite.